Netherlands Cancer Registry (NCR)
Laatst gewijzigd op: 14 oktober 2022
The Netherlands Cancer Registry is the national registration since 1989, providing statistics on cancer in the Netherlands. The registry is maintained by the Netherlands Comprehensive Cancer Organisation (IKNL). Data on incidence, prevalence, survival, mortality can be viewed in NCR data & figures on this website.
About the registry
Insight in the incidence and prevalence of cancer, which patients, which treatments and prognosis of cancer is important to improve care for cancer patients. The Netherlands Cancer Registry is the only oncological hospital registry in the Netherlands with data on all cancer patients. Data are available on national level from 1989 onwards. The recording of data in this database is performed by registration employees of IKNL. These data are reliable and objective.
The Netherlands Cancer Registry comprises information on newly diagnosed cancer patients in the Netherlands, including cancer diagnosis, tumour staging (according to the TNM-classification developed and maintained by the Union for International Cancer Control (UICC)), tumour site (topography) and morphology (histology) (according to the WHO International Classification of Diseases for Oncology (ICD-O-3)), co-morbidity at diagnosis and treatment received directly after diagnosis.
Aim
IKNL aims to provide insight in the characteristics and magnitude of cancer in the Netherlands. Data from the Netherlands Cancer Registry are used for several purposes:
to support epidemiological studies
to support and evaluate clinical studies
to develop and evaluate guidelines
to evaluate screening programmes
for (inter)national comparisons of incidence and survival
to answer political questions and for the development of policy of institutes and government
for descriptive statistics in studies on clusters of cancer
What kind of data does the cancer registry provide? To answer the objectives as good as possible, several types of data are available.
International
The Netherlands Cancer Registry is linked to the International Agency for Research on Cancer (IARC) and delivers anonymous data to the European database of the European Network of Cancer Registries (ENCR). We participate in many international collaborative research efforts, such as the EUROCARE study. In this study data regarding survival from several European countries is gathered and analysed.
NCR data & figures
With NCR data & figures you can make your own graphs and tables on cancer incidence, prevalence, survival and mortality. Cancer incidence can be viewed according to localisation, region, sex and age. The data are available from 1989 to 2020. Data of the most recent year (2020) concern preliminary data. You can compose graphs and tables yourself by selecting a cancer in the menu 'Cancer type'.
Publications
Data from the NCR currently are used in over 200 publications per year in peer reviewed medical journals and have a proven impact on cancer. For example, changes in the Dutch healthcare system, based on insights from the NCR, resulted in decreased postoperative hospital mortality rates, being most outspoken for patients with pancreatic cancer: from 24 to 4%. The NCR is also used as a primary source for evaluating effectiveness of treatment. Prediction models based on NCR data help individual patients and care professionals in decision making, e.g. when considering breast conserving surgery. IKNL participates and delivers facts and figures from the NCR for the public website kanker.nl, that is consulted 80.000 times/month.
Leaflet for patients
In this leaflet patients can read more about the Netherlands Cancer Registry (NCR). This leaflet is available for patients at their hospital.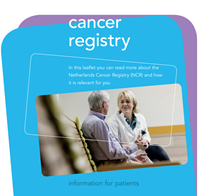 (Click here for our privacy statement)